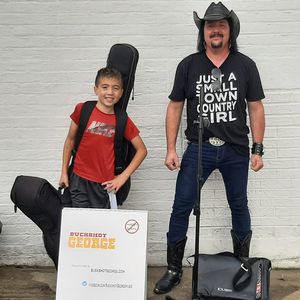 Had a little fun over the weekend, busking on 3rd Street in Bardstown with my two children as roadies. It's been on my bucket list for a while. Despite having played many high profile gigs to big crowds in the past with bands over the years and quite a bit of touring, I've still had this yearning to go play in the street. Last year, I saw a movie called "His Name is Randy " about a busker named Randy Kong in Des Moines, Iowa. That man is a friend of mine today, and he has given me many tips and much encouragement to try out busking. I highly recommend watching the film.
So I've read up on how to begin a busking endeavor, and learned that most big cities require a permit for street performance. I called the City of Bardstown last week. They thought a permit was probably required, along with permission from the police department. They took down my phone number and promised to call back. Apparently, my inquiry was unprecedented. I received a call later in the day and was told that there was nothing prohibiting busking in the city ordinances and they did not have a permit process. "Go ahead and do it", I was told.
I asked my children to help me carry my rig (two guitars, mic & stand, Roland Cube Street amp, accessories, and sandwich board). They initially declined and protested, as expected. "It's going to be boring," my son complained. Finally, he gave in, and my daughter eventually agreed to join us. This weekend was the Bourbon Festival and "Cheers to Bardstown", two separate events going on downtown.
We had a blast, meeting a few cool people, stopping by the patio at Mammy's for a bit, and having dinner at Bardstown Burger. I played two sets, one near Mammy's Kitchen and the other on the side of Wilson & Muir Bank.
I will continue a busking schedule until it becomes too cold for outdoor performance. Please see my show listings for more information about when I will appear in Bardstown. Keep in mind that times are flexible and locations are dependent on availability.
Stay tuned.
Buckshot George
Bardstown, KY